3-in-1 SAFETY KIOSK W/ THERMAL TEMPERATURE SCANNER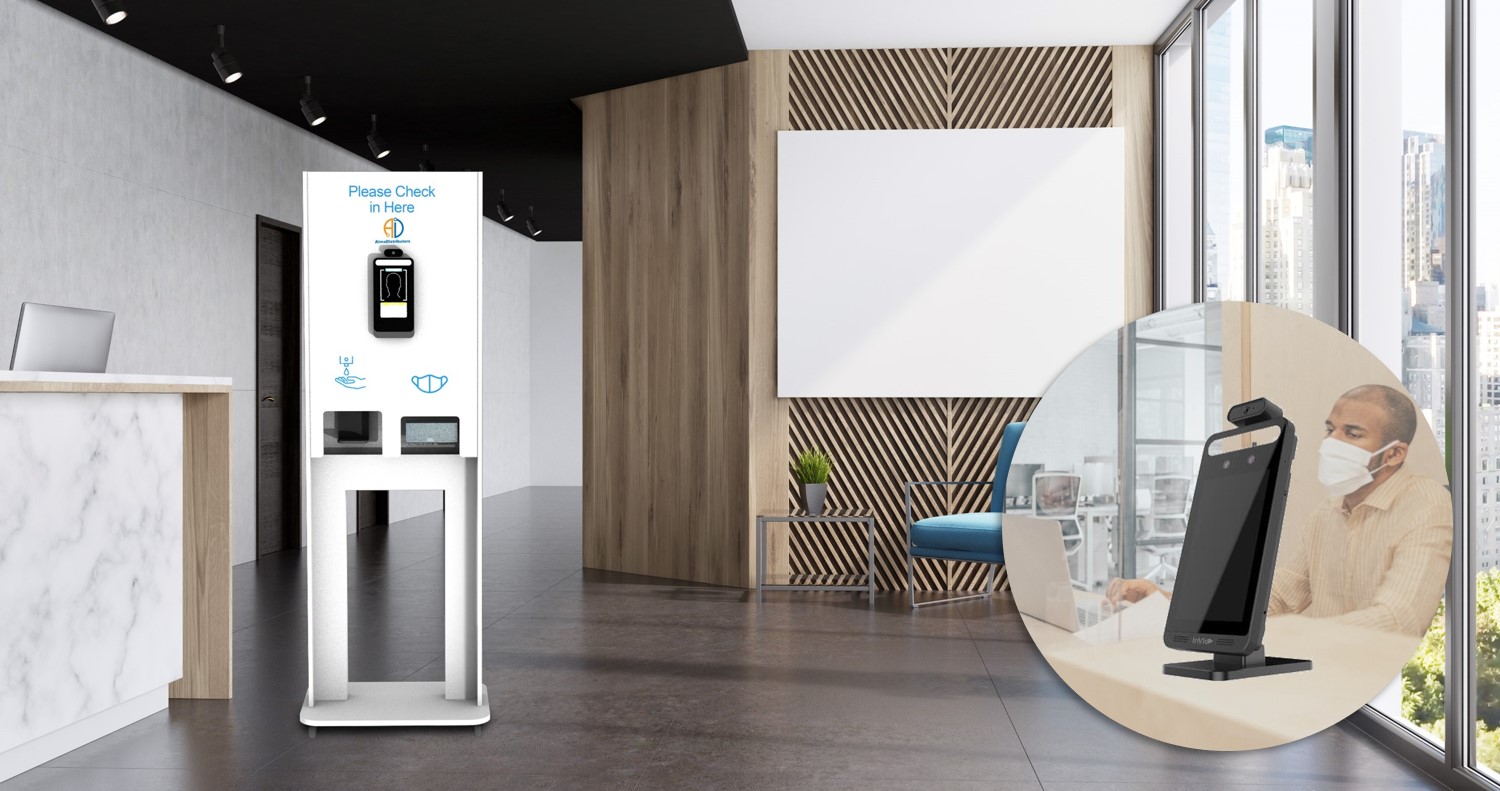 NOW available as a 3-in-1 Safety Kiosk!
Protect your people and your company the minute people enter your office with our new brandable thermal temperature scanner kiosk, featuring hand sanitizer and face mask dispensers.
We want to help you reopen and stay open, and the best way we can do that is with our full line of quality PPE Materials. We are excited to introduce the newest addition to our PPE line-up - our new thermal temperature scanner with facial detection and 3-in1 Safety Kiosk.
Trust the face-to-face experts to help you protect your people and YOUR BUSINESS!
These scanners are quality made, right here in the USA, and provide safe data collection with an internal SD card that can hold up to 500,000 scans. These scanners can also be integrated with a door system to open for those that pass the temperature protocol.
Our new thermal temperature scanners can also be pre-programmed with employee photos. The facial detection feature will then match the employee, with or without a mask on, and log each temperature scan to their profile.
---
---
SCANNER FEATURES:
8 inch LCD screen with built in camera
High-accuracy IR body temperature measurement
Non-contact body temperature measurement
Human-sounding voice prompt

Real-time

face mask

detection

and voice prompt reminder
Face liveness detection technology distinguishing real faces from non-real face spoof attacks
Highly accurate face recognition using deep learning algorithm
Stand-alone device, ready for networking

Internal

SD card that can hold up to 500,000 scans

Recognition Duration: ≤ 0.5 s per person
Face Capacity: 20,000 Per second.
Wall mounting and desktop mounting options
Click here for detailed spec sheet.
DISCLAIMER: The thermal temperature scanner is not FDA approved medical devices and cannot diagnose Coronavirus infection and are not intended for use in the diagnosis of disease or other conditions or in the cure, mitigation, treatment, or prevention of disease. When configured correctly, it can identify individuals showing higher than average skin-surface temperature relative to a sample population. Only a licensed medical professional can determine if a "hot" individual is experiencing an abnormal medical condition.
SANITIZER STATION FEATURES:
Touchless

, refillable

dispenser

Access from rear kiosk door for easy refill

Sturdy

plastic

constructio

n

Sanitizer solution sold separately

Batteries not included
FACE MASK DISPENSER FEATURES:
Acrylic PPE mask dispenser will hold up to 100 disposable

masks

Notched

at the bottom for easy

dispensing

Access

from rear kiosk door for easy refill

Masks

sold separately
---
>> Watch the WFMY News 2 Interview with our CEO Eric Burg:
"Greensboro company transforms operation to make PPE" <<
---

#StayConnected
#WeGotThis